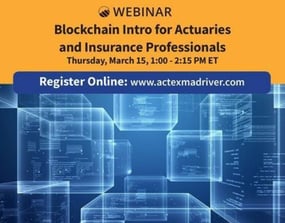 As we sit back and watch the news, read the papers, or attend technology conferences we are increasingly inundated with stories of cryptocurrency bubbles and the rush (or lack thereof) to regulation. For many, blockchain is synonymous to Bitcoin and Bitcoin to cryptocurrency, but that's both wrong and a massive undersell of the potential for blockchain, which has become a generic trademark for all things distributed ledger. Blockchain was invented to support Bitcoin and create a platform to exchange value with untrusting parties, without the need for an intermediary.
I won't weigh in on whether disintermediation of banking is likely to come to fruition – but the technology is an act of undeniable ingenuity – and the world is taking notice!
Distributed ledger systems have been implemented to assist with distribution of aid in refugee camps, land registration in Africa, and the transformation of supply chain management. Thousands of startups are entering the fray with innovative offerings across multitudinous industries, promising to change everything from the way we vote in elections to demonstrating "relationship consent." In financial services, peer-to-peer payment systems are a ubiquitous example, but work has also been completed on interbank clearing systems, self-executing insurance contracts, and all means of operational efficiency.
Keeping pace with the full extent of the movement is seemingly an impossible task, but understanding why you should care about this "new" technology is not. Bitcoin was launched more than nine years ago and your canned response for when someone brings it up at a dinner party is probably nearing obsolescence.
Technology is complicated, but understanding the basic mechanisms that allow for claims of immutability, transparency, and security doesn't have to be. If you can benefit from sharing information amongst semi- (or totally) untrusting parties, a distributed ledger might be the answer. Many believe that insurance is the perfect industry for blockchain and is ripe for disruption. Actuaries, in particular, can play a key role in purveying knowledge of the system, which is largely based in math. You owe it to yourself, and your employer, to develop a broader understanding. If you'd like to learn more about blockchain and its potential applications in insurance, join me for my ACTEX webinar: Blockchain Intro for Actuaries and Insurance Professionals on March 15.
Chris Van Kooten, FCAS, FCIA, MBA
Currently a Managing Director with Guy Carpenter Canada, which he joined in September of 2016. Through a 15-year career in financial services, Chris has assumed a variety of roles across the insurance value chain, including Corporate Actuarial, Pricing, and executive leadership roles. Immediately prior to joining Guy Carpenter, Chris served as the Chief Underwriting Officer at Economical Insurance and led the development of a fully digital insurance company, branded Sonnet. In addition, Chris is a part-time lecturer in the Actuarial Department at the University of Waterloo and is working towards a Master's degree in Behavioral Science at the London School of Economics.