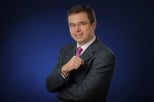 Octavian Cosenco is Board Member and CRO of BCR Asigurari de Viata Vienna Insurance Group, the biggest bancassurance company in Romania. His fields of responsibilities are Risk Management and Actuarial, Operations (including Claims, Underwriting and Policy Administration), Product and Pricing, and Customer Service and Call Center.
He is Vice President of the Romanian Actuarial Association, and is an experienced professional in life and non-life insurance, with a broad experience covering actuarial, finance and risk management.
Remarks: Please consider this interview only as a point of view of Romanian Actuarial Association.
How many practicing actuaries do you have?
The Romanian Actuarial Association has around 200 members.
What is the word for actuary in your local language?
Actuar
When was actuarial science first introduced?
Actuarial science has roots back in the beginning of the 20th century. It was first introduced between the two World Wars, with a period of decline in the communist period that followed the end of the Second World War, when it was considered of low importance and stayed in the "shadow "of statistical science. In 1995, a dedicated department was established within the Bucharest University of Economic Studies, called "Mathematical Economics" where actuarial courses started to be taught. At the end of the 1990s the Romanian Actuarial Association was established with the goal of developing the actuarial profession.
What is your favorite part about being an actuary?
When I see that my work has a significant social impact and that I can help other people understand and apply complex mathematical and statistical models.
Can you share an interesting anecdote or two from your career?
Once a very good friend of mine sent me the full history of lottery numbers and asked me which were going to be the next ones. Why do you think that he addressed this request to me? Because he knew that I am an actuary and he had just read that an actuary can predict values.
What are some of the main challenges and projects for your association over the next 5-10 years?
We have to help to establish a consistent and coherent educational system for actuaries. For this matter, we are closely working with the Bucharest University of Economic Studies and with a forum for the Actuarial Master's Program organized by them. And, at the same time, we are organizing additional courses, outside the curricula of the University, courses that would complete educational requirements for an actuary to become a full member of our association.
We also want to remain being a key consultant for different stakeholders (e.g. state authorities) and continue to offer them help to better understand the technical aspects of their decisions and help them define strategic objectives.
What developments on the horizon could affect future opportunities in your country?
The first thing that comes to my mind is IFRS 17 and how this is going to be implemented. But most important is how it is going to be used. Actuaries will have an active role and we have to use the full extent of our abilities; one of the most important aspects is how to explain in simple words complicated structures. It will be fun!

For another thing, pension payments will be another opportunity for actuaries to develop an extremely important system with a big social impact.
Last but not least, climate changes are heavily affecting all of Europe and Romania has its big share. Strange weather events are more frequent (e.g. tornados, hail with lumps of ice as big as 10 cm.). Assessing the impact is part of the actuarial work and this task is becoming more and more challenging.
Who are the main employers of actuaries?
In Romania, actuaries are mainly working in insurance companies and in consultancy companies; they can also have engagements with pension funds or public authorities.
What qualifications do you find most important for upcoming actuaries?
Actuaries should be up to date with the latest technological developments in order to understand how these affect the needs of the clients (regardless if they are policyholders, shareholders or public entities). They have to continually develop their skills and for this, various qualifications must be considered—from simple digitalization techniques to detailed behavioral economics techniques.
What is the credentialing procedure like for an actuary in your country?
In order to become a full member of the Romanian Actuarial Association someone has to have a university diploma in economics or mathematics, and to prove that she/he successfully passed the exams of the courses that cover curricula that is approved by the Romanian Actuarial Association. On top of that, a minimum of five years of relevant experience is mandatory.
Do employers support the cost and time of exam preparation?
Usually the employers cover the cost of education and impose certain restrictions (e.g. if an employee leaves the company before a certain period than she/he must reimburse fully or partially the cost). But there are other students who cover their own costs.
Could you tell us a little bit more about your country or association's plan for increasing the number of actuaries and actuarial opportunities in Romania?
The Romanian Actuarial Association is focused more on quality rather than on quantity. Increasing the number of members is a natural development and we want to be ready to offer the right platform for newcomers and already active members.
What lessons can be taken from Romania for the profession worldwide?
The main takeaway is that communication is the key for success—how and what we choose to share and what we want to share with the recipient of the message.