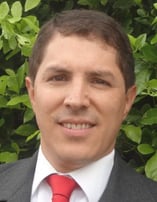 This month we have the pleasure of interviewing Rodrigo Silva from Colombia. Rodrigo Silva is a Principal at Mercer. Rodrigo currently serves approximately 110 clients in Colombia in the areas of local actuarial valuations, implementing international financial standards (US-GAAP / IFRS) and the valuation and accounting of benefits.
Rodrigo is actively involved in the development of the actuarial profession; he is leading the process for the Asociación Colombiana de Actuarios to become a full member of the International Actuarial Association (IAA) and he is the current delegate to the IAA. He is a past president of the Colombian Actuarial Association.
Prior to joining to Mercer in 2013, Rodrigo worked with Asesorías Actuariales, DecisionWare and with Universidad de los Andes as a physics professor. Rodrigo is an ASA, has a Bachelor's degree in Physics and Electric Engineering, and a Master's in Industrial Engineering (Operations Research and Statistics) from Universidad de Los Andes.
ACTEX Learning (AL): How many practicing actuaries do you have?
Rodrigo Silva (RS): The best estimate is between 200 and 250.
AL: What is the word for actuary in your local language?

RS: In Spanish: Actuario
AL: When was actuarial science first introduced?

RS: The first actuary in Colombia was Julio Garavito (1865 – 1920). He was a Mathematician and Civil Engineer and he was proficient in many fields such as astronomy, optics, economics and the human factors which affected it, such as war or overpopulation. This last field of studies is what we now label actuarial science.
Because of his contributions in astronomy, a crater on the Moon's far side is named after him, and therefore you can see his face and the Moon's far side on the Colombian $20,000 Peso bill (about US$10)
AL: What is your favorite part about being an actuary?
RS: To be able to explain, in simple terms, the conceptual framework that affects one of the most important issues that everybody faces in their life -- retirement.
AL: Can you share an interesting anecdote from your career?
RS: In Colombia it is not so clear what do we do, "actuary" is an unknown word for laypeople. Let me give you an example. In my previous job, I worked for "Asesorías Actuariales" (Actuarial Consulting). We appeared in the yellow pages and one day, very early in the morning, I received a call from a worried young boy. He explained to me that he was very concerned about his fish; he noticed that the fish was not as active as usual. I listened to him very patiently, and he described the situation very well. The fish did not go after his food and was not enthusiastic about eating it. He did not move in the aquarium or chase anything. I asked him why he called my office and he told me that he was overjoyed when he found a company that could help him in aquarial matters. I had to tell him that I could not help him and that I worked as an actuary, that he was very clever for doing such research in the yellow pages and I hoped that his fish would get better.
AL: What are some of the main challenges and projects for your association over the next 5-10 years?
RS: To be more visible to the government and to the general public.
AL: What have you seen from inside your company? Where do you think the changes to actuarial work in your country will happen in the next five years?
RS: I work in the retirement field, and the local regulation is very complex. The retirement situation faced by people is obscured by this complexity and we need to be able to communicate with the general public, in order for the lay person to understand the basic foundations of the retirement system and to make logical decisions.
AL: Who are the main employers of actuaries?
RS: Consulting firms, insurance companies, pension funds and the government.
AL: What is the credentialing procedure like for an actuary in your country?
RS: The "Asociación Colombiana de Actuarios" has recently became a full member of the International Actuarial Association. In order for anybody to become a member of our association, we have to compare his or her studies to the international syllabus.
AL: Do employers support the cost and time of exam preparation?
RS: Most of the companies do not support it, but some of them reimburse the cost of the exams, after the student passes them. Some of the big insurance companies have more formal programs -- once the person has a few years working in the field and shows the potential to have a promising career, they send the student overseas.