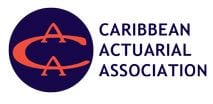 This month, we have the pleasure of interviewing Lisa Wade, Lisa is a Principal and Consulting Actuary with the firm Eckler Ltd and is based in its Barbados office. Since joining the Eckler team her primary experience has been focused on employee benefits work. She advises public and private sector clients throughout the Caribbean. She is a Fellow of the Institute and Faculty of Actuaries as well as the Society of Actuaries. She holds a BSc in Business, Economic and Social Statistics from the University of the West Indies, Mona Campus and a MSc in Actuarial Science from Heriot-Watt University, Scotland.
Lisa has been a member of the Council of the Caribbean Actuarial Association for the last ten years.
ACTEX Learning (AL): How many practicing actuaries are there in the Caribbean region?
Lisa Wade (LW): Including students, there are approximately 260 members. We have 83 resident fully qualified actuaries, and 30 more who practice and work in the Caribbean area on a temporary basis.
AL: Where are your members from?
LW: We have members in the following countries: Trinidad & Tobago, Jamaica, Barbados, Suriname, Bahamas, Bermuda, St. Vincent, Belize, Cayman Islands, Haiti, Canada, the U.S., South Africa, the UK, Argentina and Germany
AL: What is the process like for students seeking to become actuaries in your region?
LW: There are a number of routes students can take. Some people take IFoA exams, but the majority of students here are taking SOA exams. We have a Bachelor's of Science program in Actuarial Science available at two campuses in the University of West Indies, and some students choose to go abroad and then return to the Caribbean area to practice. The CAA offers support to actuarial students in the Caribbean region, including reimbursement of examination fees to students for their first two SOA exams, given certain conditions, such as a good GPA. In addition, the SOA offers their Associateship Professionalism Course (APC) in conjunction with our annual meeting every other year in December, so if any students are seeking to complete this requirement in December, and can convince your employer to reimburse you, come to the Caribbean for it!
AL: What are the main areas of practice in your region and what trends are you seeing?
LW: Most actuaries work in traditional areas, such as life insurance, pensions and employee benefits. We have seen an increased focus on microinsurance in the region, as well as a move from defined benefit pension plans to defined contribution plans, in line with international trends. There has also been an increased level of regulation as the region's regulators are not just relying on good market conduct, but codifying requirements.
In the area of property and casualty insurance, there are increasing requests from regulators to have P&C actuaries involved. In Jamaica, there is now a requirement to have an appointed actuary for P&C insurance, whereas in other countries, this is not yet a requirement, although it is a good practice.
Due to the small size of the market, we have seen consolidation within the insurance sector over the last ten years, and we believe that this will continue in the future, partly due to new capital requirements.
AL: What is your favorite part of being an actuary?
LW: What I really enjoy is being able to help people make complex decisions. We, as actuaries, have a unique skill set, but often do not have such good communication skills. Communicating with clients and solving their problems is definitely the most rewarding part of actuarial practice.
AL: Do you have any interesting anecdotes from your career?
LW: Well, as a consultant, so much of what I do is governed by confidentiality agreements! However, I can say that I have had only positive, fulfilling and rewarding experiences. There are not that many actuaries in the Caribbean, but there is a great level of collegiality in the CAA, which has tripled in size since when I joined. We all know and are supportive of one another. Our association requires a lot of volunteer work, but through this, we have reached a level of recognition in the region with regulators regarding the importance of an actuary in a regulatory regime as a risk professional. Actuaries are important allies in analyzing what is a sensible capital regime for our region, taking into account systemic risk and other issues. After some spectacular failures in the region, we have seen a tightening of standards.
AL: What role does the CAA play in the region?
LW: The CAA has been doing a lot of work together with regulators in the region to implement changes. We help analyze proposed regulations from an actuaries' perspective. We also put out Actuarial Standards of Practice (ASOPs) for the Caribbean region. One of our goals is to have consistently high standards of practice in the Caribbean region and to converge with International Standards of Actuarial Practice (ISAPs). We are also seeking to have regulators mandate that practicing actuaries in the region be members of the CAA so that they are bound to follow the CAA's standards of practice.
AL: What have you seen from inside your company? Where do you think the changes to actuarial work in your country will happen in the next five years?
LW: In my company I see concern regarding actuaries' continuing education. We understand that future competition will encompass talent, knowledge, practice and service; we are working on improving in these areas. In the near future (5 years), we foresee a movement to participate in companies´ governance, providing models of different phenomena to the corresponding policy committees.
AL: What kinds of regional collaboration do you see in terms of regulators?
LW: There is a Caribbean Association of Pension Supervisors and a Caribbean Association of Insurance Regulators as well as the Insurance Association of the Caribbean. They meet regularly in order to learn from one another. There are many initiatives to harmonize legislation in the region, but nothing is finalized. There are precedents for cooperation with the Organization of Eastern Caribbean States, who have a monetary union, and are looking to have a single set of regulations for insurance and pensions.
AL: Can you give us some history of actuarial practice in the Caribbean region?
LW: The first actuary to begin practice in the region was Daisy May McFarlane-Coke, who began a firm in Jamaica in 1972, which later merged with Eckler Limited. She was the first black woman to become an FIA and she was a co-founder of the CAA in 1991. Mervyn deSouza founded an actuarial practice in Trinidad and later became a senator. Jean Franz Alcindor began working as an actuary in his native Haiti in 1976 following studies in Switzerland and industry experience in Uganda and the U.S.
AL: Is there anything else you would like to share?
LW: The Caribbean is a great place to work!