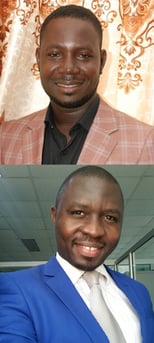 Benin is a country in West Africa. The majority of its population lives on the small southern coastline of the Bight of Benin, part of the Gulf of Guinea in the northernmost tropical portion of the Atlantic Ocean. Actuarial science programs were introduced in Benin during the academic year 2005-2006.

Mr. Adolphe K. Kassin holds a DEA (Post-graduate Research Degree) in Anglophone African Literature. He has been Head of Benin Actuarail Programmes Administration/Executive Director of ASPA/ESA since 2013. He is the one in charge of organizing the cousres for both Bachelor and Master programmes at ISM-Adonaï and UAC.

Mr. Fritz Totin, holds a Bachelor Degree in Actuarial Science. He is currently the the Head of Studies and Development at SAHAM Assurance, Benin. At this poisition he carries out the following task: market study, production analysis, customer profiling, creation of new products, calculation of mathematical reserves, technical assistance to the sales force, implementation of statistical decision-making tables.

The two belive hard work and focusing on their education and business skills can help young actuaries succeed. Read on to learn more about Actuarial Science in Benin.
How many practicing actuaries do you have?
We have thirty (30) practicing actuaries in Benin, Cameroon, Cote d'Ivoire and Togo
What is the word for actuary in your local language?
No word. We just use the French word "Actuaire"
When actuarial science was first introduced?
The actuarial science programmes were introduced in Benin during the academic year 2005-2006 thanks to a collective initiative of Ludwig Maximilians University (LMU) (Germany), ISM-Adonaï (Benin), a private business school and the University of Abomey-Calavi (UAC), a public university of Benin.

What is your favorite part about being an actuary?
Being able to price life insurance product, to create a new local product regarding population needs.

Can you share an interesting anecdote or two from your career?
My boss asked me to build a team and create new product that can be sold everywhere. After deep analysis, I suggest that micro-insurance offering death benefit can be the best. We worked on team of four people for 6 months to design completely the product, all process around. But when we present our result, my boss said that it is too dangerous to offer death benefit to this population.

Do you have any advice for young people in your country interested in pursuing this career?
Our advice for young people interested in actuarial career is that they should be hardworking and mind their education. I also encourage them to focus on broad business skills as well. For me, understanding the financial aspects of businesses through corporate finance and accounting can be very useful. Also, they have to be expert in MS Excel and VBA. They should be proud of this career and keep in mind that the actuarial profession is a pathway for the future.

What are some of the highlights of the history of the actuarial profession in your country?
The Creation of the Actuarial Association "Association pour la Promotion des Sciences Actuarielles/ Ecole Supérieure d'Actuariat" (APSA/ESA) in 2013
The organization the 1st and the 2nd West African Conferences in Actuarial science and Finance respectively in 2016 and 2018.
Organization of seminars for professional and practitioners
What are some of the main challenges and projects for your association over the next 5-10 years?
Our association aims at organizing seminars and conferences in the field of actuarial science, granting certified actuary titles to the members, continuing to back up the actuarial programmes. The main challenge in Benin is the fund raising for the activities. Sponsors barely exists.

Who are the main employers of actuaries?
The main employers of actuaries in Benin and the West African region are Insurance and Reinsurance Companies and Social Security Funds. This can be distributed as followed:

Life Insurance Company (90%)
Non-Life Insurance Company (6%)
Brokers (2%)
Actuarial Science Firm (2%)
What qualifications do you find most important for upcoming actuaries?
Future actuaries should have solid knowledge and skills in calculation and to love numbers and mathematics in general. But that's not all: the job of actuary also requires significant knowledge in law, taxation, economics, management, and of course finance. In addition, they will need to master perfectly the computer world, as well as software and other specific computer tools that will assist you in various tasks. The mastery of the English language is mandatory for a brilliant regional or international career.

Do the schools in your country have actuarial majors, minors, concentrations or do students study on their own or overseas?
Yes of courses, we have two actuarial programmes in Benin. The Bachelor is located at the department of actuarial science and financial mathematics at ISM-Adonaï and the Master programme is at The Department of Mathematics at FAST-UAC.

What is the credentialing procedure like for an actuary in your country?
There is no credentialing procedure as our association is not a full member of the IAA yet.

What is your favorite Excel function and why?
Vlookup (very useful to compare data and many things)

Do you have any non-actuarial hobbies?
Development of web application in PhP and NodeJS

Could you tell us a little bit more about your country or association's plan for increasing the number of actuaries and actuarial opportunities in Benin?
In order to have many actuaries in our country and in the region, we Increase actions to inform and attract more practitioners and students from different countries and establish and intensify links with other professional associations in the region with similar objects.
We initiate and use projects as training opportunities for students. We also inform and seed support from the Diaspora to develop a sustainable actuarial capacity for the markets in the region with access to international best practices. One of our main objectives is to encourage insurance/financial companies to setup and develop an actuarial department.
We are in contacts with local and regional insurance supervisory authorities and with local insurance companies for internships.
For a better running of the master Programme, we signed Joint Supervision Agreement between ESA/APSA and UAC. We are working on how to have our first fully qualified actuary according to international principles.

What could people from outside of your country do to help the profession grow in Benin?
People outside of Benin can help the profession by supporting intellectually with their expertise in the field of actuarial training. They can offer opportunities to some of our students to go abroad for internships, for example. As most of the lecturers or practitioners of the programmes come from abroad, the stays cost a lot and we would appreciate any financial aid/support. People have to know that there are actuarial competences in Benin and the sub-region.

What can the actuarial society in Benin do to help the profession grow worldwide?
The Benin actuarial association "Association pour la Promotion des Sciences Actuarielles/École Supérieure d'Actuariat (APSA/ESA) founded in 2010 is a melting pot for professionals of the country and region. It offers many actuarial opportunities through various activities that it organizes. It implements a framework of sound professional practice and personal development of its members–the actuaries. The association is in dialogue with all national and international institutions, using its professional expertise in the interest of actuarial questions and to the benefit of customers and industry regarding legislative processes.
The active participation in national/international insurance and banking industry meetings of its members is a good asset in the popularization of the profession in the sub-region and worldwide. Our close link to the International Actuarial Association (IAA) is a vivid proof that the association promotes and implements international experience, findings and requirements regarding professional ethics as well as international training standards.

Is there anything else you would like to add?
I would like to lay emphasis on our Master programme on actuarial science at UAC and some specific actions carried out by our association.
Eligible students for the Programme are generally from regional countries and they comprise both male and female. So far we have enrolled 09 from Cameroon, 01 from Côte d'Ivoire, 01 from Mali, 12 from Togo and 38 from Benin.
So far, 17 students from the first three batches have been graduated. They include (07) Benin nationals, seven (07) Togolese nationals, two (02) Cameroonian nationals and one (01) Ivorian national. They have created alumni group and are in permanent contact with them so as to have updates regarding their careers. Moreover, they are all members of Association pour la Promotion des Sciences Actuarielles (APSA), a duly registered actuarial association in Benin, and regularly take part in the activities of that association.

APSA, through its members support the training programme in actuarial science through various activities. In December 21, 2013, an information Workshop was organized at Pull Man in Abidjan (Ivory-Coast) with fifty-seven (57) Stakeholders.Then, on January 23, 2014 a similar information was organized in collaboration with PlaNet Guarantee at Hotel du Lac in Cotonou (Benin) with 30 stakeholders. On February 16, 2016, another information Workshop in Lagos (Nigeria) was organized in collaboration with the National Insurance Commission (NAICOM) of Nigeria with the participation of more than 40 stakeholders. A first west african conference on Actuarial science and finance was held on the 8th and 9th December 2016 and and the second edition took place on the 18th and 19th October 2018.